About Us
Our History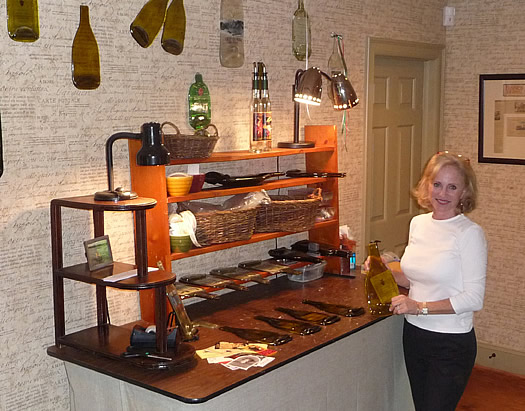 Vineyard Designs began in late 1999 as 'Wine Bottle Cheese Boards' in the home of Lindsay Thayer Stroker's in Charlotte, North Carolina. Lindsay was the first to introduce the 'labeled' wine bottle cheese boards in the United Sates and is now the leader in 'personalized' wine bottle cheese boards. Within a year of starting her business, the business moved to a larger building in Pineville, NC. Her three children, now in NY, DC and Charlotte, all became part of her sales force, helping the business grow.
After opening at the Atlanta Americas Mart in 2000, Lindsay realized that there was a growing need to add products to her line. She developed additional wine-related products: Wedding Invitation Wine Bottle Cheese Boards, personalized Wine Bottle Oil & Vinegar Sets and Wine Bottle Salt & Pepper Shakers. New products in hand, Lindsay continued to travel to all the major gift shows in New York, Los Angeles, San Francisco, Dallas, Chicago, Boston, New York, Florida, and Seattle.
Vineyard Designs products have been sold at several major stores including: Nordstrom, Marshall Fields, Caswell Massey, Southern Season, Villeroy & Boch, Von Mauer, Storehouse Inc., and Treasure Islands. They have also been sold at at many hotels, among them, The Ritz Carlton, Marriott, Hotel del Coronado, Sherry Netherlands, and The Plaza. Additionally, our personalized wine bottle gifts could be found a nationally-known museum gift shops and 2500 upscale boutiques nationwide.
Currently, Lindsay has developed an internet based business and no longer travels the wholesale gift shows. She continues to expand her business in the "personalized" gift arena and has a growing corporate gift business.
Handcrafted Products



Catalog Gift Sales
Vineyard Designs has sold 75,000 personalized cheese boards in several well-known catalogs,
The Wine Enthusiast among them. Our personalized wine bottle cheeese board was the highest selling product, their 'hero' product in the older Paragon catalogue for 5 years in a row!

Each Cheese Board is individually handcrafted from a recycled wine bottle in North Carolina. As a result of our intense heat process, every cheese board will have its own characteristics, bumps and bubbles. These are natural imperfections inherent in a handcrafted item.

Going "Green"
With the growing popularity of "Green" initiatives, Vineyard Designs has developed a successful and highly respected reputation in the personalized wine gifts arena. All wine bottles used are recycled and a great way to help our environment. What a novel gift idea...a recycled, melted wine bottle, with a customized wine label to use as a practical dynamic server. Consider giving a personalized wine bottle cheese board, a gift that you design while being environmentally conscious. A perfect gift for the person who has everything! Recycled wine gifts are here to stay!